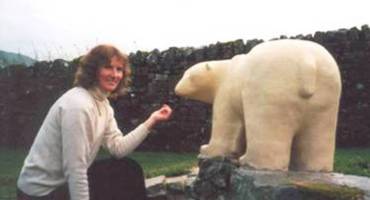 Ruth Watson - Sculptures in Stone
Ruth Watson uses traditional hand stone carving methods to create animal sculptures that explore the relationships and differences between our perceptions of a species and the physical reality of the individual animals. She reflects this dichotomy by combining literal and figurative elements. The former ensure that her pieces are accessible and identifiable, while the latter make us examine how particular features and shapes impact our mental image of the genus. Meanwhile, she conveys movement in her work so that the viewer asks not only "What is it?" but also "What is it doing?"
She lives with her husband, Paul, near the village of Ilam in the Peak District National Park. This website shows her work to date - just click on the Sculptures link above.
---
Her interest in stone carving
She always had an ambition to create her own garden sculpture of a polar bear.
In 1999 she attended a stone carving course at West Dean College in Sussex, where she started work on a one-foot long alabaster polar bear. A further two weeks work at home completed the piece and cemented her love of working with stone.
In May 2000 she set out to realise her ambition by acquiring a three-quarter ton piece of limestone that she strategically positioned in her garden. Over a period of six months she transformed it into a sculpture of a standing polar bear. Since then she has completed various other pieces shown in these pages. As you will see, she has a particular fascination for polar bears, but she has also branched out to other creatures.
Some of her sculptures are not for sale, having been given as gifts to friends and family, or have become part of her home. Others are available to buy - see the individual sculptures. Bronzes may also be made from any of the pieces available for sale and from Andy and Mamma Meerkat - please contact Ruth for information.
---
Contact Information
website

e-mail